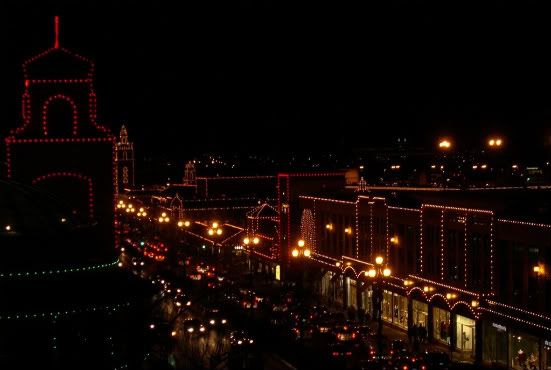 When my (older) cousins were little, my parents started a holiday tradition. In order to give my aunt and uncle time to shop for and wrap their Christmas gifts, Mom and Dad kept my three cousins for the night. I'm not sure exactly when or how it started, but somewhere along the way, that night became time for their annual visit to Kansas City's Country Club Plaza.
For those of you who don't live around here, the Plaza is a large, upscale outdoor shopping center that is covered in lights every year at Christmas. Turning the lights on is a huge event the night of Thanksgiving, and the buildings stay lit up until January.
Once my brother and I came along, my parents made it a tradition to take ALL of us to visit the Plaza lights. I'm not sure that we went every single year. Actually, I can think of one year in particular that we missed because I was sick. But more often than not, as we were growing up, we'd find time to make our annual trek to see the Plaza lights.
I'm sure it was always cold, and it's not like we had money then to shop in any of the stores. But we loved being together, and somehow, we created some of my favorite holiday memories on those trips. For instance…
…There was the time we saw a man stealing one of the colored light bulbs. I'm not kidding! He had climbed up the side of the building (yes, let's just imagine he was like Spiderman, for the sake of this story) and was unscrewing a bulb!
…And then there was the old glove we found one year – only to find what we swore was its twin the next year. (Why my parents let us pick up an old, dirty glove, I have no idea.)
As we got older, we actually braved the Thanksgiving night madness a few times, fighting the crowds for parking spaces and standing, shivering, down the block from the stage and official "switch." By then, we could afford to at least window shop and snag some Starbucks coffee or Topsy's popcorn. And the last time we went, the adults still outnumbered the kids so we could keep them entertained and under control.
These days, our schedules and logistics (as in, the kids now outnumber the adults) don't allow for an annual trip to the Plaza. But I look forward to the day when we can revive our family tradition and take the whole crew to see the lights. Maybe we'll even get lucky and catch someone stealing a light bulb again.
What holiday traditions does your family have? Will you be enjoying any of them this weekend?
This post will be linked to Things I Love Thursday at Diaper Diaries.